P2P | 4 November 2022 | 244.3 MB
FIELDS OF ROCK SDX
ON HALLOWED GROUND.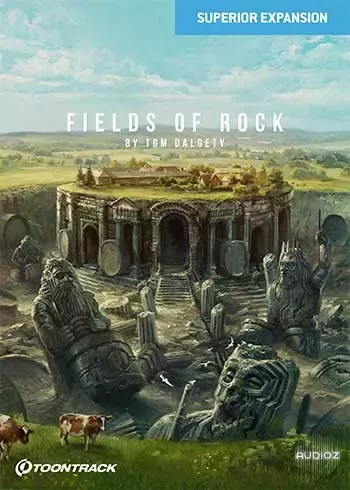 Seven kits capturing the essence of rock drums from the '70s through to today.
The Fields of Rock SDX features seven drum kits and a comprehensive collection of percussion instruments recorded by multiple award-winning engineer/producer/mixer Tom Dalgety (Ghost, Rammstein, Pixies, Royal Blood) and drummer Mat Hector (Iggy Pop, Gutterdämmerung). It was captured at Rockfield, the Welsh dairy farm-turned-into-studio that ended up leaving colossal footprints in its now-fifty-year-long path through music history.
This unlikely studio, to which bands like Queen, Rush, Judas Priest, Hawkwind and many of their contemporaries in the 1970s pilgrimaged, became a creative haven where some of the best rock songs of our time materialized. But even beyond the heydays of classic rock, Rockfield has remained a lynchpin in the recording world, attracting top-tier acts across all genres, like Oasis, Coldplay and Manic Street Preachers, just to name a few.
This SDX sets out to capture the essence of the genre-defining rock albums recorded in the different rooms of the studio, but also to add the modern technology, forward-thinking ideas and ingenuity that take your productions into tomorrow. In addition to using all the great vintage microphones and outboard gear available at Rockfield, the library was recorded through 14 channels of hardware tape emulation, recreating the unmistakable, warm and saturated sound of tape.
This SDX is just as much a nod to the past, an homage to the greats and a respectful bow to the gods of rock as it is a reach into the future. Welcome to a collection of drum tones to last the entire range of rock and beyond.
Seven (7) drum kits and wide selection of cymbals and extra instruments
One comprehensive set of of percussion instruments featuring rototoms, congas, shakers, bongos and more, as well as various multi-sampled foley pieces (cutlery, chairs etc.)
Recorded at the iconic Rockfield Studios in the UK
Produced and engineered by Tom Dalgety (Ghost, Rammstein, Pixies, Opeth, Royal Blood)
Sampled by Mat Hector (Iggy Pop, Gutterdämmerung)
Features four individual libraries/configurations (three for drums and one for percussion)
Recorded with several ambience and character microphones offering a huge sonic palette
Includes a broad range of rock-oriented presets engineered by Tom Dalgety
Comes with a MIDI library customized for each included kit as well as a dedicated collection of grooves for percussion
THE ROOMS & THE KITS.
Rockfield has two main recording areas: the Quadrangle and the Coach House. For this SDX, Tom and team recorded in both and also treated parts of the rooms to obtain even more variation. In the end, the different areas, or 'rooms' as we call them, were configured as their own libraries – three for drums and one for percussion.
The 'Live Room' was recorded in the Quadrangle, which has two main recording spaces with the control room in between them. This was the livelier of the two rooms, with hardwood flooring and more reflective surfaces. The rest of the library, including the percussion part, was recorded in the Coach House, in which the kits were set up in both an area with carpeted floors and heavy drapes covering the walls ('Dry Room') as well as one with a reflective stone wall behind the drums ('Stone Room').
All in all, you'll get three contrasting and natural ambiences covering the entire range from loud, lively and hard-hitting down to dry and dampened.
THE PERCUSSION.
The percussion library includes anything from traditional percussion to spur-of-the-moment foley-type "instruments," like a cutlery drawer dropped on the floor, a ladder hit with drumsticks, glissandos up and down window railings – and more!
MICROPHONE POSITIONING & OVERVIEW.
In addition to the more traditionally positioned close microphones, selected kits in this library also offer several options for creative ambiences. For example, the unique Rockfield reverb chamber, the hallway going from one of the control rooms to the studio as well as a "trash" microphone channeled through different chains of outboard and distortion effects.
THE MIXER.
Superior Drummer 3 and its onboard Mixer offers a staggering amount of features, effects and tools, enabling you to craft custom drum mixes for any sound or style you can imagine. If you're new to Superior Drummer 3, learn more about its Mixer features here.
UNCOMPROMISING INSTRUMENT DETAIL.
To us, sampling sounds for an SDX is more than merely recording instruments. It is the craft of capturing the essence and every unique voice of each instrument to give you, the user, the ability to produce limitless and stunningly real performances.
THE PRESETS.
To inspire and enable you to make music immediately, the Fields of Rock SDX includes a broad range of mix-ready presets including 29 settings engineered by Tom Dalgety. These were inspired by the historic records captured in the studio as well as his own signature drum recordings. Additionally, there is a wide range of ready-made mix presets from the Toontrack sound design team.
THE MIDI.
The included MIDI was performed by Mat Hector and designed to provide the perfect groove base for each of the included kits. In addition to the regular drum grooves, the library also includes a dedicated section for percussion.
SYSTEM REQUIREMENTS.
For the full Installation of this product you will need approximately 163 GB of free hard drive space, plus an additional 163 GB is required for the installation process.
8 GB RAM (16 GB RAM or more recommended).
A working Superior Drummer 3.2.6 (or above) installation.